We have worked very hard to produce a nutrition bar that supports liver health, and it is the only one of its kind in the US market. The Amsety Bar contains the Super 16 Vitamin and Mineral Mix that was developed by a team of liver health specialists, food engineers, and scientists. It contains no refined sugars, and it is gluten free, sodium free, lactose free, organic, and non GMO.
At the DDW, the largest convention of Liver & GI specialists around the world, we surveyed physicians and health care providers on liver health. 96% of Liver Specialists that we interviewed said they would recommend the Amsety Bar (Study during DDW, May 2016).
For Liver and GI Specialists, the most important factor for liver health is nutrition, followed by regular exercise. The feedback we received was continuous, that nutrition is ranked as the highest most important factor –ranking even higher than regular exercise and abstinence from alcohol (Study during DDW, May 2016).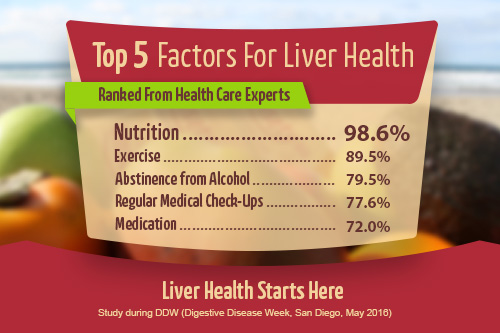 For liver patients, maintaining a proper liver diet is anything but easy. They are restricted to several kinds of food therefore are left with limited choices. Our goal is to provide a simple solution, by including all the necessary ingredients for the dietary restrictions of liver patients in one delicious bar. Some physicians recommend that liver patients should have small but frequent meals throughout the day, and a snack before bed to prevent muscle breakdown. Amsety Bars are perfect for this, they are designed as a meal replacement, and can be enjoyed as a snack.
When asked about what food properties that are most important for liver health, 80% of physicians and health practitioners answered "No Refined Sugars" and 79% answered "Sodium Free" (Study during DDW, May 2016). Amsety Bars contain no refined sugars, preservatives or colors and contain less than 5mg of sodium, qualifying them as Sodium Free. We received very positive feedback on the taste of our bars and that we have a product raising awareness about one of the most important conditions in the United States. Several physicians signed up for our Nutrition Intelligence Program, an educational program raising awareness on liver health. With this in mind, we have developed Amsety Nutrition bars with our unique blend of 16 Super Vitamins and Minerals that are naturally designed to support liver health. We would like to give everyone a chance to try our bars and get on the right track towards a healthier liver diet so we have created a special offer. We're giving you $10 off your first purchase! Just enter the voucher code "Welcome-to-Amsety" in the checkout and you will receive your discount.