Introducing Amsety's new Chef: Chef Chad Kilgore!
Chad is a chef from San Diego, California with extensive experience, having worked as an Executive Chef at Pfizer, a Sous Chef at Ruth's Chris Steak House, and is a Co-founder at Cheffin' Around.
His passion is creating sustainable and healthy lifestyles through his healthy recipes. Chef Chad has a personal connection to this mission as he had to learn to eat and live better due to his own weight issues in his youth.
Having three small children, Chef Chad wanted to make sure they have a better future by regular physical activity and proper nutrition.
Amsety is proud to partner with Chef Chad to promote liver health and nutrition through his healthy recipes. Eating healthy doesn't mean having to sacrifice taste. That's where Chef Chad comes in, he creates dishes that highlight the ingredients' natural flavors and prepares them in a way that won't diminish their ingredients. Chef Chad will create healthy recipes for Amsety and together they will work towards promoting a healthier tomorrow. You will soon find a dedicated section to Chef Chad's recipes where you can access all his healthy recommendations and adapt them to your lifestyle.
What does Chef Chad recommend for a healthy liver diet?
Amsety Bars are the first of it's kind. A bar that promotes a healthy liver and is incredibly delicious. I recommend them to my clients not only because they are good for them, but they are easy to incorporate into my recipes; for example, I love mixing crumbles of the chocolate and peanut butter as a granola substitute in my morning yogurt parfait. The fact that they are gluten free and sweetened with honey has made them an easy choice for a healthier tomorrow."
Chef Chad recommends making one small change at a time because small changes lead to a big difference. He states: "It's not only learning to eat better, it's learning to live better".
Are you ready to make a change? Start your day with Chef Chad's very own breakfast recipe: Acai Bowl topped with Amsety Peanut Butter Superstar! Amsety Nutrition bars are gluten free, sodium free, contain no refined sugars, non-GMO and organic. This is a great gluten-free option and packed with fruits!
Recipe for Acai Bowl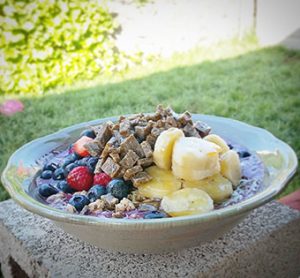 Base:
1 cup Frozen Organic Berry Blend
1/4 cup Plain Greek Yogurt
Topped:
1 cup Fresh Berry Assortment
1/4 cup Gluten Free Granola
Minced (cut into very small pieces)
Drizzle with your favorite Honey
personal favorite)
Preparation:
1. Blend all the base toppings until smooth
2. Top with the delicious toppings!