Let Amsety Bars be your perfect liver friendly option for a healthier diet. Amsety Bars are designed by a team of liver health specialists to meet the dietary restrictions of those with liver conditions. They are the first nutrition bars for liver health. In this article we show you how Amsety Bars can taste even more delicious when paired with foods good for the liver. Improving your liver nutrition has never been easier.
Perfect Pairing: Amsety Bars and Watermelon Juice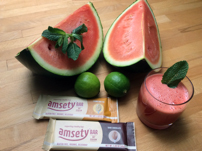 Why is watermelon good for the liver?
Provides hydration. Staying properly hydrated is very important for a healthy liver.
Helps to lower cholesterol
Helps fight cancer
Perfect Pairing: Amsety Bars with Apples & Blueberries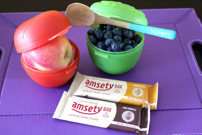 Why are blueberries and apples good for the liver?
Blueberries are very high in antioxidants which are important for preventing liver disease
Apples contain pectin that hang on to heavy metals in the body and assist with their excretion. This process takes the load off the liver and makes it easier for detoxification
Apple peels can help reduce obesity and rates of fatty liver
Perfect Pairing: Amsety Bars with Raspberries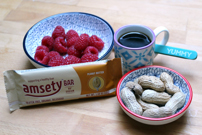 Why are raspberries good for the liver?
Contain ketones which have shown to prevent obesity and fatty liver
Contain fiber which helps to maintain healthy digestion and excretion of toxins through bile
Contain vitamin C which is healthy for the liver and keeps eyes healthy
99% of Liver Specialists believe that nutrition is the most important factor for liver health. So how do you incorporate more liver friendly foods in your diet? Get started with Amsety Bars this weekend with our very special offer!
Buy one box of 12 Amsety Bars, get one box FREE! That's 12 FREE Amsety Bars!
Remember, Amsety Bars are the first nutrition bar to support liver health.
Amsety Bars:
Contain No Refined Sugars
Are Non GMO, Sodium Free, Organic
Are Gluten Free, Dairy Free, Kosher
---
Get your perfect match for liver health now!