Did you know that October is Liver Awareness Month? We're here to help you get the most out of this month by starting a healthier liver diet. As our Culinary Advisor Chef Chad says, the easiest way to do this is to make one small change at a time. So last week we spent the day at a local farmer's market where Chef Chad explained to us the importance of picking fresh produce and cooked delicious recipes for a healthy liver diet.
Liver Health Through Nutrition:
One of the most important factors of liver health is nutrition. That's what 88% of our customers believe. It's no doubt that managing a healthy lifestyle and cooking healthy can be difficult with our busy lifestyles. However, making a small change in your diet can make a big difference. Chef Chad believes that growing produce locally and sourcing proteins that have been raised responsibly and sustainably is essential. He states: "It's not only learning to eat better, it's learning to live better".
Cooking Healthy with Chef Chad
Last week we spent the day travelling to a farmer's market to meet Chef Chad while he picked healthy vegetables to use in his liver healthy recipes for Amsety. Chef Chad told us some of the secrets to picking the freshest vegetables. He passionately believes in buying from your local farmer's market. He states: "Support your local farmers! For what these fruits and vegetables lack in size, they make up for in flavor".
We then travelled to Baja Sessions, a beautiful local catering company in Carlsbad. Chef Chad began to work on his new creations. You can enjoy his delicious Greek Yogurt Cheesecake with Chocolate Amsety Bar Crust here.
Soon these delicious recipes will be available on our website:
Amsety Oatmeal with Figs, Raspberries and Greek Yogurt
Fall Garden Frittata Bites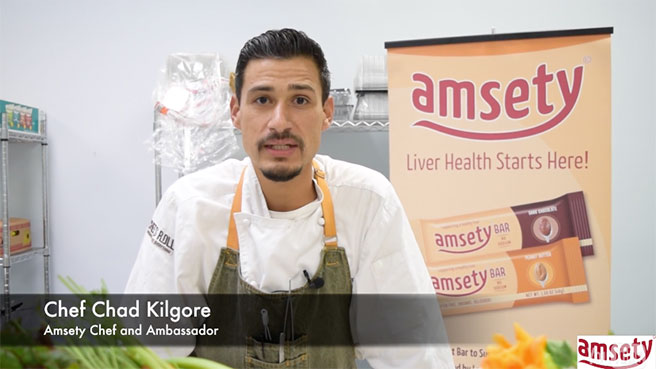 Nonna's Pollo Dell'orto – Grandma's Chicken from the Garden. Watch Chef Chad prepare it
---
Ready to improve your liver diet this October? Take advantage of our Liver Awareness Month Special: FREE Shipping all of October! Bars are gluten free, sodium free, dairy free, contain no refined sugars, and kosher. Get started today while supplies last!